Nutanix Karbon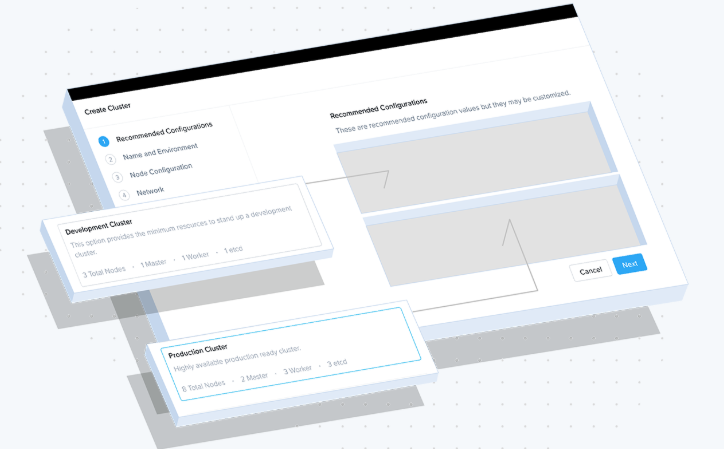 NUTANIX KARBON
Nutanix Karbon is a private cloud, turnkey-curated, enterprise-grade Kubernetes service offering that simplifies the provisioning, operations, and lifecycle management of Kubernetes. Karbon makes it simple to deploy a highly available Kubernetes cluster and operate web-scale workloads.
Nutanix Karbon enables enterprises to provide a private-cloud Kubernetes solution with the simplicity and performance of public clouds. It is also part of a complete Cloud Native solution from Nutanix including storage (Volumes/ Buckets/Files), database automation (Era), and enhanced monitoring (Epoch). Leveraging Karbon, developers can enjoy the native Kubernetes experience that is delivered fast while all complexities of infrastructure are abstracted with no additional costs. Karbon is included in all AOS software editions.
With a highly available deployment support, Multi-Master Control Plane, reliable and performant storage provided by the Nutanix HCI platform for block (Nutanix Volumes) and file (Nutanix Files) through CSI, and object storage via Nutanix Buckets, and integrated monitoring, logging, and alerting, Nutanix Karbon makes it simple for customers to deploy a highly available Kubernetes cluster.
Nutanix Karbon also offers zero downtime upgrades for Node OS and Karbon Service, as well as on-demand scaling up or down. This allows customers to easily operate web-scale workloads on a Kubernetes platform.
Karbon simplifies all Kubernetes operations:
Day 0: Install
Day 1+: Configure & Operate, Optimize, Compliance, Upgrade, Patching.
Karbon One-Click Kubernetes includes:
Create cluster with recommended configuration. Provides easy installation and deployment of the Kubernetes platform.
Storage class. Focused on integrated persistent storage for containerized applications through volumes files using CSI.
Cluster list with upgrade available. Upgrading Node OS and Karbon: 0 downtime upgrades.
Leveraging Karbon, developers can enjoy the native Kubernetes experience and also make use of all the Cloud Native solutions/Nutanix HCI Platform offers such as DBaaS with Nutanix Era, Application Monitoring with Nutanix Epoch and more.
Nutanix Karbon allows organizations to be more agile and efficient. More importantly, they can save the cost of hiring additional dedicated resources to manage their infrastructure, help alleviate the pain of dealing with day to day monitoring, and further assist with the uptime of the Kubernetes cluster. With Karbon, IT teams can focus on the business, increase the rate of innovation, and decrease time to market—all while developers enjoy the fast, efficient native Kubernetes experience.