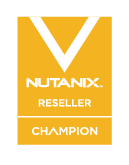 Nutanix NX-3170N-G8

Purpose-Built Hyperconverged Infrastructure (HCI) Appliances for Hybrid Clouds

Nutanix NX-3170N-G8
Contact us for Pricing!

Get a Quote
Nutanix NX nodes are purpose-built SuperMicro appliances with configuration options for all hyperconverged infrastructure (HCI) use cases. They offer a streamlined IT operations (ITOps) experience for all your workloads from day-0 through day-n.
Overview:
The Nutanix Virtual Computing Platform integrates high-performance server resources with enterprise-class storage in a cost-effective 2U appliance. It eliminates the need for network-based storage architecture, such as a storage area network (SAN) or network-attached storage (NAS). The scalability and performance that the world's largest, most efficient datacenters enjoy are now available to all enterprises and government agencies.
Benefits of NX Infrastructure

Simplicity
1-click IT operations from deployments in hours to non-disruptive software and firmware upgrades.

Flexibility
Mix and match node models and configurations as needed. Deploy only when required.

Integration
Single vendor solution with world-class 90+ Net Promoter Score (NPS) support.