Nutanix Prism Pro

Streamline infrastructure operations with the help of advanced machine intelligence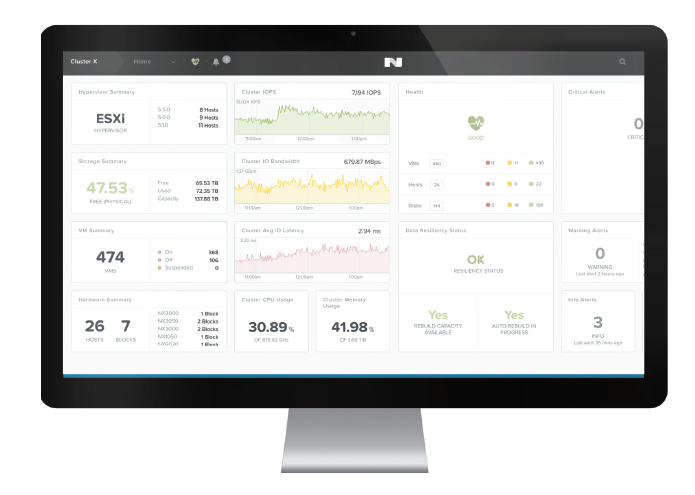 Overview:
Nutanix Prism Pro improves the quality and efficiency in IT operations for the modern datacenter. Powered by the machine learning and task automation, Prism Pro intelligently optimizes capacity, proactively detects performance anomalies, and enables the IT team to automate operations tasks with ease and confidence.
Traditional IT operations management (ITOM) tools were built for static infrastructure. They often overwhelm IT teams with complex and noisy alerts that the teams can't do anything about. In dynamic and scalable modern datacenters with high performance and diverse workloads, IT teams need simplicity and accuracy to achieve high productivity in operations.
Powered by X-Fit (purpose-built machine learning technology) and X-Play (a codeless task-automation engine), Prism Pro mines large volumes of system data to generate actionable insights and enables IT to automate remediation and everyday tasks for performance management and capacity optimization.
AUTOMATED OPTIMIZATION
Prism Pro includes a powerful application and VM-centric capacity forecast, planning, and optimization engine powered by Nutanix's X-Fit and X-Play technologies.
Capacity Behavior Analytics: Predictive analysis of capacity usage and trends based on workload behavior enabling pay-as-you-grow scaling.
Capacity Optimization: Inefficiency detection in resource usage and automated optimization of VM sizing based on VM behavioral analysis
Just-in-Time Forecast: Capacity expansion forecast to meet future workload growth
PROACTIVE REMEDIATION
Powered by Nutanix's X-Fit and X-Play technologies, Prism Pro learns the real-time performance behavior of VMs, detects anomalies automatically, and enables the IT team to automate remediation.
Anomaly Detection: Predictive monitoring based on behavioral analysis to generate actionable signals and provide early warnings.
Bottleneck Detection: Intelligent detection of VM performance bottleneck using machine learning.
Remediation Actions: Using X-Play, IT team can create playbooks for common remediation or troubleshooting steps. Those playbooks can be triggered automatically based on the alert polices.
OPERATIONAL AUTOMATION
Prism Pro's X-Play links intelligent signal with automated actions. With a few clicks, IT team can automate their day-to-day operational tasks. They can build the automation and improve the operations productivity with ease and confidence and zero coding
Codeless Task Automation: A super-glue that ties an actionable signal to an automated remediation or operations task.
Action Gallery: A collection of out-of-the-box actions for notification, VM management, reporting, and scheduling. It also includes the REST and script actions that can connect to your existing tools and systems.
Centralized Upgrade: One-click upgrades to hundreds of clusters without service disruption.
PRISM VERSUS PRISM PRO
Prism is Nutanix product that manages the infrastructure and hypervisor. It includes single- and multiple-site management, VM management, storage management, and one-click upgrades. Please see the Prism datasheet for more details. Prism is included with every edition of Acropolis.
Prism Pro enables smart IT operation and automation by optimizing capacity intelligently, monitoring and resolving anomalies proactively, and automating remediation and operations tasks. Prism Pro is available for purchase on a subscription basis. A trial version of Prism Pro is included with every edition of Acropolis.
FEATURES
PRISM
PRISM PRO
Cluster and Hypervisor Management
Single-cluster Management
Multi-cluster Management
VM Management
Storage Management
Multi-Hypervisor Management
Network Visualization
Smart IT Operations and Automation
Automated Optimization
Capacity Behavior Trends
Just-in-Time Forecast
VM Right Sizing
Proactive Remediation
Anomaly Detection
Bottleneck Detection
<
Remediation Actions
Operational Automation
Codeless Task Automation
Action Gallery
Centralized Upgrade