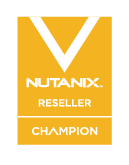 Nutanix Service Provider

Build differentiated and profitable services with Nutanix
Rapidly scale without the complexities of traditional infrastructure
Service providers need to create unique and profitable offerings and services for their customers, without competing solely on price. But you may find it difficult to onboard customers quickly without overprovisioning resources and driving up costs. You may also spend too much time managing you environment, dealing with the complexity and inherent limitations of traditional three-tier architectures and siloed resources.
Nutanix enables service providers to quickly and easily build differentiated and profitable services, aligning investments with IT consumption. By combining hyperconverged and web-scale technologies with enterprise capabilities, Nutanix Enterprise Cloud provides the high performance you need, at as much as 50% lower cost for any workload at any scale on any cloud.

Start Small
Reduce upfront costs and lower risk with a flexible pay as you grow model.

Grow Easily
Rapidly scale business and expand your portfolio of services with Nutanix and OEM appliances.

Simplify Operations
Cut management up to 70% by reducing downtime and speeding troubleshooting with smart analytics and deep insights.

The Nutanix Enterprise Cloud Platform Advantage
Nutanix integrates compute and storage resources into a single appliance, delivering cost savings and predictable scalability for all types of virtual workloads.

Easy Scalability
Add new appliances in minutes with minimal to no configuration so you can on-board new customers as much as 90% quicker without over-provisioning.

Reduce Upfront Costs
Share infrastructure across different customers and applications without performance impact, reducing IT infrastructure costs by over 30% versus 3-tier architectures.

Reduce Operational Costs
Cut power, space and cooling requirements by 50-70% for both servers and storage, and management and support costs by 70-80% as a result of simplified management.

Cut Downtime
Cut downtime and speed troubleshooting with deep infrastructure and VM-level insight through smart analytics.

Affordable Disaster Recovery
Leverage Nutanix VM-centric replication technology to offer customers affordable data protection and disaster recovery at the VM and application level.

X-Powered Trust
When you carry the X-Powered logo, your customers know that they'll benefit from services built on the industry leader in hyperconverged solutions.